OPENING LETTER:
Dear Community Partner,
On behalf of El Paso Sun City Pride, we would like to thank you in advance for taking the time to review our Sponsorship Packet for the 12th Annual Pridefest Celebration scheduled for June 1st through June 30, 2019.
Raising awareness to equal rights has long been an El Paso tradition, both legally and socially, and we celebrate EP Sun City Pride to affirm that tradition. We are proud of having over a decade of service to this community and recognize we could not be where we are today without citizen support and our sponsors. However, we do not lose sight of the fact that there is still much to do and we need your help.
Lesbian, Gay, Bisexual, Transgender, Questioning, + (LGBTQ+) people around the world continue to face violence and inequality and sometimes even torture or execution because of who they love, how they look, or who they are. It is up to all of us in our community and our allies to continue to work together towards a world where all people can enjoy their rights fully.
BRAND NEW FOR 2019: Pridefest in El Paso is NOW a full month of events and is internationally and nationally, recognized as the largest Pride Celebration in the Southwest! Our goal is to celebrate the diversity of the LGBTQ+ community, praise our own who have made significant achievements and recognize those that have helped us grow.
Your support will allow us to focus on the organization's 501(c)(4) objectives which are devoted to charitable, educational & recreational projects here in El Paso. Your support will support our Scholarship Program that benefits the LGBTQ+ high school and college students achieve their post-secondary goals and become college graduates. Finally, sponsorship helps to bring a great festival for the entire community of El Paso to enjoy.
Pridefest is the perfect opportunity for you to brand, market and give your company presence to over 12,500 event goers throughout the duration of the month's events. This year, a combination of marketing channels such as social media, print, website/web links, and visual marketing will be utilized to increase the visibility of our Pride Partners.
Please find the sponsorship opportunities included with this letter and let me know if you have any questions, comments, or suggestions. I would appreciate the chance to provide any details that may help in deciding your sponsorship.
Sincerely,
Christopher J Eck, Sponsorship Director
El Paso Sun City Pride Board of Directors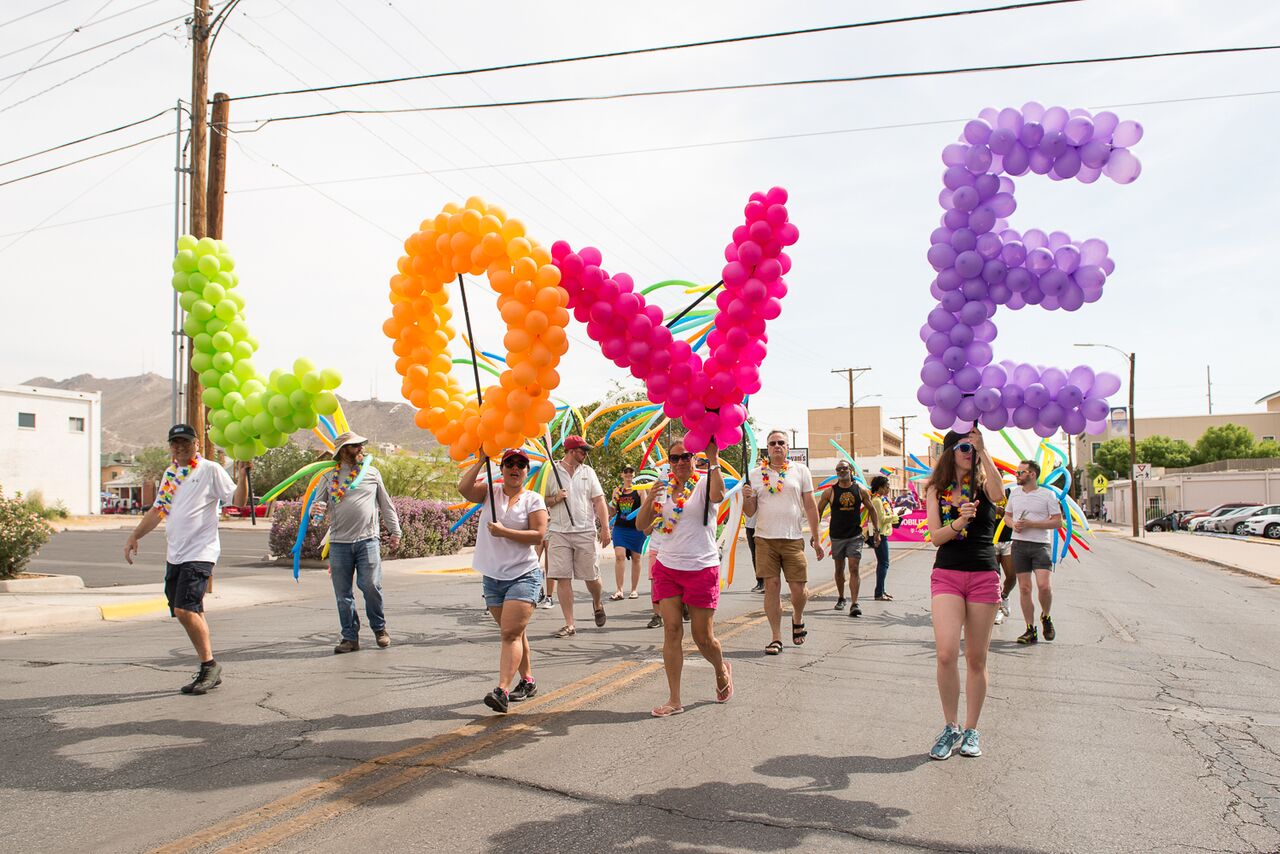 WHY PARTNER WITH SUN CITY PRIDE IN EL PASO?
As our region's largest recognized LGBTQ+ organization, EP Sun City Pride is excited to invite those in our community to become sponsors for our 12th Annual Pride Celebration.
BRAND NEW FOR 2019, Pridefest will NOW be a full month of events around the Great City of El Paso. Pride events during the month will include family friendly events at the El Paso Zoo, scholarship recipient presentations, bar nights, sponsorship reception, Pride Night with the El Paso Chihuahuas, the Pride Parade and street festival, Pride Brunch and much, much more! The PRIDE Festival is a one-day, outdoor event showcasing celebrity entertainment, food, merchandise, activities and numerous community organizations.
DISTRIBUTION AND LONG SHELF-LIFE GET RESULTS
A full-color program will be distributed extensively throughout El Paso and surrounding communities. This means it delivers your advertisement and sponsorship often, creating an excellent branding opportunity for your business. Additionally, this content will be seen by the anticipated 12,500+ attendees during the entire month of Pride events making your contribution and commitment to supporting diversity in our community very clear. As research indicates, the LGBTQ+ community is brand loyal to those who support them!

BUILD CUSTOMER AWARENESS AND LOYALTY
Being a sponsor with El Paso Sun City Pride provides tremendous exposure for your business with the LGBTQ+ community and their allies. Each year, Pridefest is not only a phenomenal event for the attendees, but a rewarding experience for volunteers who make this happen. Your support builds tremendous awareness for all in the El Paso and surrounding Communities. Becoming a Pride Partner proves that you and your business go deeper than commerce; IT TRULY CARES ABOUT AND SUPPORTS THOSE IT SERVES.